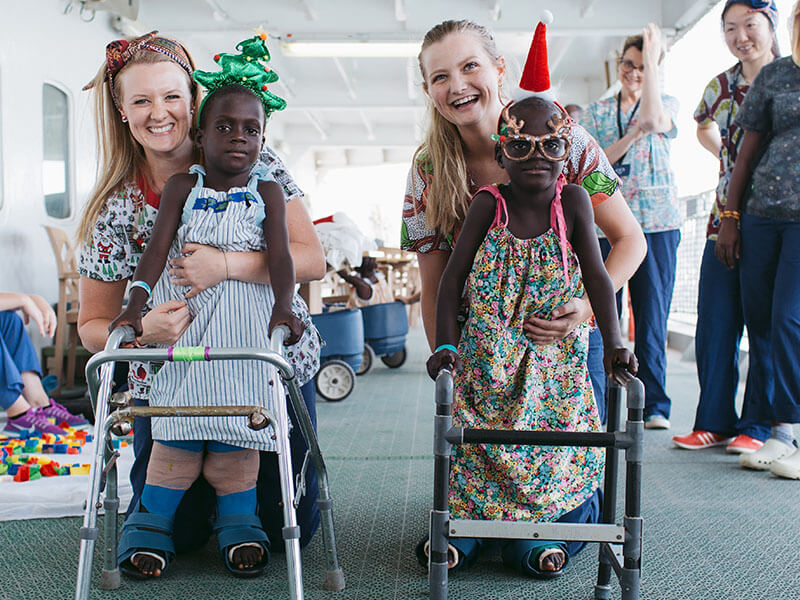 Ship Life
A Community Like No Other.
Our Mercy Ships community is unique and special. Compassionate volunteers from all over the world join together, living and working toward a common mission.
Serving with Mercy Ships offers the chance to build friendships and create memories that will last a lifetime. Community life is one of the most rewarding aspects of life onboard.
Not only will your service with Mercy Ships make a difference in the lives of others—it will impact your own life, too.
Housing
Your Personal Space
Our cabins are small, but cozy. Most of our Crew will share a cabin and a bathroom with multiple 'cabin-mates', with a bunk and a small closet to call their own. Each cabin is equipped with WiFi and A/C, with magnetic wall space to put up pictures of your loved ones.
Couples and families have their own cabins, and single cabins for our Maritime Officers.
Dining
Tasty & Healthy Fare
Our Food Services department serves delicious and nutritious meals three times a day in the onboard dining room. There's a snack bar and even a Starbucks café on board. When the occasional craving for a homemade dish strikes, cook up whatever you like in the crew galley. Limited groceries can be purchased at local markets or from the Ship Shop, our onboard convenience store.
Amenities
The Comforts of Home
Each ship is like a small city and includes anything you might need. There's a laundry room, hair salon, bank, post office, weight room, internet café/WiFi, a lending library with movies and board games, a swimming pool, and even a clinic for crew medical and dental care.
Adventure
Work Hard, Play Hard
The unique experience of serving with Mercy Ships includes the adventure of discovering new places. Each country we serve in has its own culture and beauty. Our crew are encouraged to engage with the people we have come to serve, and even learn new languages! You can explore the local markets, attractions, and restaurants, or attend a local church.
We will teach you how to get around safely, and will also provide opportunities for you to spend some time with those in need ashore.
Education
Two Ships. Two Schools. One Mission & Vision.
From kindergarten to high school, the Academy students learn everything they would discover in schools on land — and more. The Academy is internationally accredited and meets educational standards of quality. Moreover, it is a place where children can experience the unique aspects of life onboard our ships with people from all over the world.
Click Here to learn more
about our academic program, student life opportunities, available teaching positions, and more!
Family
Volunteer Together
Mercy Ships is able to accommodate volunteers with families for many of our long-term roles onboard. We have an accredited 12-grade Academy onboard specifically for crew children!
Lesson plans include curriculum taught in a normal classroom environment, with the added benefits of international learning opportunities and experiences.
Training
Ongoing Opportunities
We want our volunteers to grow and thrive while serving onboard. That's why we provide ongoing training opportunities as a way of investing in the future of our crew members.
Safety
Committed to Our Crew
We take the safety of our crew and patients very seriously. Our team of experienced security officers are committed to keeping everyone safe and secure.
Support
Process Freely
Moving to a ship on a new continent and working in a brand-new environment can be a lot to manage at first. One way we support our crew is through our Crew Care program.
Chaplains are available for anyone looking to talk about their new experiences with a reliable confidant.
"I see compassion demonstrated throughout all the crew when it comes to our patients. From the moment they arrive on the dock, until they go home, every part of their  journey is greeted with compassion."
"There are a lot of computer systems that we provide support for, and that's been an enjoyable and rewarding challenge. You have a sense of being part of something that's bigger than yourself."
"My favorite part about teaching in the Africa Mercy Academy is of course the students! They bring so many interesting cultures, views, and languages to the table. I love hearing their perspectives."
Are You Ready to Use Your Skills to Make a difference?
Join us.
Imagine how far we could go together!