Frequently Asked Questions
We are so excited that you are interested in learning more about serving with us. This page provides help with the most common questions we receive. Please contact us if you have additional questions.
Is Mercy Ships working during the COVID-19 pandemic?
For more than 40 years, Mercy Ships has focused on bringing hope and healing to those in desperate need. For the past 30 years, we have concentrated our efforts in Africa. During those three decades, we have worked to strengthen local healthcare systems and we are encouraged by the good results we have realized through direct surgical care for patients, and through training local healthcare professionals. While we had to scale back our programs during this pandemic, we are still currently serving nations in Africa and are eager to do even more in the future. We'd love for you to be part of this.
For more information regarding how Mercy Ships is operating during COVID-19, click here.
What kinds of positions are available?
The complex nature of Mercy Ships projects and programs demands a wide range of skills. We need biomedical technicians, sterilization technicians, marine officers, engineers and ratings, teachers, mechanics, and photographers, and so much more.
For a current list of opportunities, please click here.
How long can I serve?
Mercy Ships provides opportunities to serve for various lengths of time, both in shorter-term or longer-term capacities. Those wishing to serve for more than twelve (12) months must first successfully complete our On Boarding Program (including Foundations of Mercy Ships). All positions have both minimum and maximum lengths of commitment.
Please note: A married person applying to serve without their spouse can serve for up to 3 months.
What health or age restrictions apply?
: All volunteers must be in good health and prepared for the physical demands of both living and working on board a ship in West Africa. For example, our volunteers may be required to sleep in a bunk bed in a dorm-style room with other volunteers of the same gender.
Did you know the ship has multiple decks, and the average crewmember climbs about 30 flights of stairs daily?
Did you know some roles primarily work off-ship (and sometimes even live off-ship), and require a different kind of physical stamina to be exposed to the heat and African climate?
Did you know roles such as Housekeeper, Sales Staff, Dining Room Staff, Hostess, and Galley Staff are physically demanding and require heavy lifting and manual labor?
Because a maritime authority governs us, all volunteer applicants must submit a medical history and physical evaluation, which a licensed medical professional reviews. Some pre-existing medical conditions (for example, insulin-dependent diabetes, heart conditions, pregnancy, immune-suppressed conditions, etc.) may disqualify an applicant for service due to maritime regulations and lack of guaranteed access to adequate medical care. To learn more regarding medical restrictions for volunteers, click here.
:Currently, volunteers must be between 18 and 79 years old at the time of volunteer service. Applicants between 70-79 can serve for up to six months at a time and will be required to submit additional health documentation. 
Are physically impaired people able to volunteer with Mercy Ships?
Due to the limited confines of a Mercy Ship and compliance with ship safety standards, it is not possible for physically disabled persons to volunteer on a Mercy Ship.
What are the immunization requirements?
We require several different inoculations for all crewmembers coming on board.
Yellow Fever
Hepatitis B
MMR
Tetanus / Diphtheria
COVID 19
Tuberculosis testing
For those working in the Hospital, Dental Team, and Engineering, Hepatitis A and Typhoid are also required.
Click here to download a copy of the current immunization list.
Note: For those joining only during operational periods in Europe, the only required immunizations are Tetanus/Diphtheria and COVID-19.
Why is TB testing required before joining Mercy Ships?
While tuberculosis (TB) is not as prevalent in the West as it is in Africa, our volunteers are at risk of exposure while serving.  We accept crew from all over the world – including areas more prone to TB infection – so we need to ensure none of our volunteers have active TB when they join, given the close living conditions on the ship a case would risk infecting the crew.
This policy is also in keeping with modern standards from multiple health organizations and infection prevention and control recommendations that all people working in a hospital (in this case, all crew) be tested annually for tuberculosis.
Does Mercy Ships cater to special diets?
While we strive to prepare & serve healthy meals onboard, our supply & Galley (kitchen) restrictions mean we cannot cater to specific diets (i.e., gluten-free, vegan, celiac, etc.), We do have a Crew Galley onboard, open 24/7, for any Crew member to cook and prepare their own food when desired.
How much does it cost to serve with Mercy Ships?
Volunteers pay for their transportation to and from the ship's location as well as monthly crew fees and all personal expenses. Crew fees are paid by every adult crewmember and vary depending on the length of commitment as well as the volunteer's country of residence. 
Click here to see a sample budget.
Typical expenses include crew fees, travel to and from the ship, personal expenses for socializing / stocking up on toiletries, travel insurance, and lattes from the cafe! 
We are excited to offer financial aid to crew with commitments of 24+ months and for any crew in qualifying maritime roles. Contact a recruiter for more information.
Can Mercy Ships help me raise funds?
We have developed a Financial Support team is to ensure each volunteer is financially prepared for their service by assisting with budgeting, crew fees, and fundraising. If you have any questions as you think through volunteering, or if you've already applied – the Financial Support team is available to assist you. Send them an email or check out their fundraising brochure here. 
Additionally, any volunteer serving in qualified maritime roles, and any volunteer committing to 24+ months can apply for financial assistance to ensure continuity in critical positions.
Is it safe to live onboard the ships in African nations? What security measures are in place?
Mercy Ships holds the security of its crew as our highest priority. We do not serve in conflict areas, although it has served in post-conflict venues, such as Sierra Leone and Liberia, after the cessation of hostilities. Our country security protocols are developed from evaluations conducted by an assessment team, various embassies, other NGOs and multilateral agencies, on-the-ground surveys, and government officials. Each ship is provided with dedicated security guards and a Ship Security Officer, who provide continuous watch-keeping and access control. While the ship is in the host nation conducting its field service, the Ship Security Officer maintains a working relationship with local embassy staff and other relevant contacts and the local security situation is carefully monitored with security protocols in place as necessary. At times a host nation may experience varying degrees of political and ethnic tension, requiring such protocols as avoiding certain routes or areas, or otherwise ensuring the safety of crew and patients, and the controlled delivery of services. While a Mercy Ship is capable of sailing away from a port in an emergency situation, none has been required to do so in its 40+ year history.
Mercy Ships complies with the International Ship & Port Facility Security Code (ISPS Code) and has a regulatory approved Ship Security Plan (SSP) for its vessels. Our Company Security Officer (CSO) is responsible for compliance and administration oversight of the approved SSP and the CSO or his designate is available 24/7 to respond to any incidents identified by the ship's Captain. In accordance with the signed protocol with a host nation, its government is responsible for providing port security.
What languages do I need to know?
English proficiency is required for all positions in Mercy Ships, and fluency is required for some positions. French is beneficial, but not required unless stated on the job description.
For English proficiency, while Mercy Ships does not currently require proof of examination, we use the Common European Framework of Reference for Languages (CEFR) as a reference for English proficiency. All volunteers must be at level B1 on the CEFR scale (Independent User – Threshold or Intermediate) or higher in order to join onboard.
Level B1 summary:
Can understand the main points of clear standard input on familiar matters regularly encountered in work, school, leisure, etc.
Can deal with situations likely to arise while traveling in an area where the language is spoken.
Can produce simple connected text on topics that are familiar or of personal interest.
Can describe experiences and events, dreams, hopes, and ambitions and briefly give reasons and explanations for opinions and plans.
You may refer to the full summary of each level by clicking here.
If I serve on one of the ships, will I be working with the local people?
All of our volunteers work with the local people to some degree. Some (for example, those who serve in the hospital) will likely have more direct contact, but there are opportunities throughout the week made available for crew to participate in during their time off from work. Our crew also work alongside 200 or so local Day Crew who work onboard during the field service. Our Day Crew are vital to our mission, and are an integral part of our community onboard.
What do crew do after work?
After work, crew often get together for fellowship and fun. This may include going out for an adventure to a local market, dinner or dessert, playing games in one of the lounges onboard or on one of the decks, watching movies, or attending an informal Bible study/prayer meeting. Others use the time after work to email friends, write home, practice music or get involved with the many Mercy Ministry opportunities conducted off-ship.
Where do crew come from?
Our crew is diverse and come from all over the world to serve onboard. At any time, we have about 40 different nationalities represented.
Where does the ship pick me up?
All volunteers fly into an airport local to a ship's port location (usually in West Africa) and embark there. Volunteers are picked up from the airport when they land in our host country and taken to the ship by Mercy Ships crew or Day Crew. Sailing isn't involved unless your service dates are in line with the sail from the field service location to the maintenance location, or from the maintenance location to the next field service location.
What does the ship's schedule typically look like?
Typically, our ships dock in a West African country for approximately 10 months out of the year in active field service. During the other two months, each ship undergoes maintenance and repairs. While in maintenance, the Hospital and our Mercy Ships Academy are closed, but the rest of our volunteers remain active in their duties.
You can learn more about each vessel's individual schedule here.
Where can I get more information about volunteering with Mercy Ships?
Can I bring my pet (including Service Dog, emotional support animal, or therapy animal) on board?
Mercy Ships cannot accommodate pets, Service Dogs, emotional support animals, or therapy animals on board a Mercy Ships vessel. Maritime medical regulations require that all Mercy Ships volunteers meet our medical conditions standards and be fit for duty to perform their assigned responsibilities. Please note: the Department of Transportation does not require passenger ships to make service animal accommodations.
Is there Catholic Mass on board?
We do not have  Catholic Mass on board. There are often Catholic Churches near the ports we serve and we are happy to help you find a place to attend Mass in the area.
Can married couples with/without children serve onboard?
Housing for couples is limited, but we have cabins for married couples. Family housing is reserved for long-term crew where one spouse is filling a critical position.
If we are a couple, how will our placement be managed?
We love when couples volunteer together. Placement will be dependent on respective roles being available at the same time, as well as the availability of couples housing.
Can non-married couples serve together onboard?
We welcome couples who are not married to serve together. However, please note that you will be allocated separate cabins, and along with all crew members, should familiarize yourself with, and agree to abide by our Code of Conduct, specifically as it relates to relationships.
Please note: A married person applying to serve without their spouse may only be accepted for a maximum of three months.
Can single parent families volunteer to serve onboard?
The ship is very limited in the number of family cabins available and therefore they must be allocated to crew that can work full-time in a critical position onboard. When we accept any family, we expect one of the parents to work full-time while the other parent's main responsibility (due in a large part to safety issues) would be to take care of/watch their children when they are not in school. Therefore, this would not work in the case of the single-parent family, as their time would have to be split between their parental and shipboard duties and therefore not allowing the crew member to work full-time.
If we are applying as a family, can we both work full-time?
When we accept any family unit, we expect one of the parents to work full-time while the other parent's main responsibility (due in a large part to safety issues) would be to take care/watch after their children when they are not in school, taking on the role of Primary care Giver (PCG). Depending on the age(s) of the child(ren), the PCG can work part-time in a department onboard.
How many children are onboard?
Between our two vessels, we have a combined capacity for over 170 children!
What are the advantages for children living onboard?
Children are introduced to many new cultures and nationalities onboard a Mercy Ship. They have opportunities to join their family in interacting with and learning from the patients that we serve. Our Mercy Ships Academy offers a fantastic accredited Christian international school with small classes and excellent academics. In addition, crew life onboard does often begin to feel like a large family, with many positive role models and friends for the whole family.
Many of our families have reported that they have treasured the chance to spend their days together, eat their meals together, and have fun while serving together.
What are some of the disadvantages for children living onboard?
Some families find the separation from extended family difficult. Our Kids On Boarding Program is designed to equip children and families through these transitions.
The nature and environment of some of the port cities we are docked in means sometimes a lack of freedom and possible boredom due to the lack of outdoor play space. While we have a great play area on deck, the limited options & facilities for extracurricular activities such as gym, sports, dance, etc. can be challenging. Additionally, making friends and then having to say "goodbyes" when they leave can be difficult.
What is the Mercy Ships Academy?
The Mercy Ships Academy was founded in 1979 to provide a Christian education for the children of crew members. Instruction from a Christian point of view is offered for children of Nursery age through to completion of High School.
The Mercy Ships Academy is a fully accredited International Christian School that brings glory to God by fully equipping each student with the foundation of knowledge and skills necessary to fulfill God's purposes in their lives. We do this by partnering with parents in developing Christian character in their children through teaching values based on a genuine biblical worldview within the structure of quality academic education, meeting the physical, emotional, and spiritual needs of each student. The Mercy Ships Academy uses an international standards-based curriculum and follows the educational standards of the Association of Christian Schools International (ACSI) and Middle States Association.
What are some of the advantages and disadvantages of the Academy?
One of the great things about the Academy is the small class size and excellent student-teacher ratios, which means each student can get more individual attention. The limited space for Physical Education due to living on a ship in a port can be challenging, but the teachers always look for creative ways to get everyone moving!
How long are the school days, and how much homework do students have?
The school day starts at 8:00 AM and finishes at 3:20 PM. There is an hour lunch break, where all students and families can have lunch together.
Preschool hours are from 8 AM-12:00 PM or 9:00 AM-12:00 PM, depending on the age and preschool year.
The amount of homework depends on the age and grade level of the student.
What is the average class size?
The maximum class size on the Africa Mercy is 6. The Global Mercy has a maximum class size of 10.
How are the classes divided?
Preschool, Kindergarten, Grades 1, 2, 3, 4 and 5, 6, 7 and 8, 9 and 10, 11, and 12.
What do kids do when the Academy is closed for holidays or the maintenance period?
Many families use this time to take leave of the ship, visit family, work on fundraising, etc. The Academy's summer holiday typically coincides with the ship's maintenance period/dry dock period.
When are school breaks scheduled?
Typically, there is a mid-school break for approximately two weeks from before Christmas through the first week of January, and there is a break for about two months (usually June & July). The school calendar may change based on the ship maintenance schedule. If you would like to be connected to a family onboard with children of a similar group to yours to learn more, please ask a recruiter!
What is there to do as a family on our off time?
For on-ship activities, both Mercy Ships are furnished with swimming pools, and with ample deck space and equipment for playing. Families can also find an Internet Café / computer room, and a well-stocked library of books and DVDs.
For off-ship activities, and depending on port location, there are typically places to visit ashore, like parks or local hotels with pool facilities. There are often local beaches, and Mercy Ships will provide guidance on their safety for crew. Mercy Ships also helps to arrange crew activities, including days out to different local places of interest – markets, nice restaurants, etc. There are plenty of opportunities to travel and see the country in which we are serving.
What would our cabin be like, and how big are the beds?
Africa Mercy – Families will be accommodated in a 4- or 6-berth family cabin with a kitchenette, bathroom, storage, and a living area. The living quarters include a double bed for the parents, and one or two rooms outfitted with bunk beds for the children (depending on the size of the cabin – 4- or 6-berth). A few of the family cabins have a sofa-bed for the parents instead of a separate bedroom.
Global Mercy – Families will be accommodated in a 6-berth family cabin with a kitchenette, bathroom, storage, and a living area. The living quarters include a room with a double bed for the parents, and two rooms outfitted with bunk beds for the children.
What are the special rules for children?
Each Mercy Ship has a safe and family-friendly environment. There are some guidelines for children's protection, and of course, parents are ultimately responsible for their children. Younger children (under 10) must always be supervised and cannot wander around the ship without an adult. There are rules on foodservice, for example, and general safety rules that all crew are expected to follow.
Are diapers available onboard?
Unfortunately, diapers are not available for purchase onboard. However, depending on local supplies, families can purchase them in local markets or supermarkets, or order them online and have them delivered to the International Support Center (ISC) in Texas for transport in the regularly scheduled container sent to each ship approximately every six weeks.
Is there an orthodontist onboard?
Depending on availability and the schedule of dental programs onboard, we try to have a crew dentist onboard consistently, who cares for the dental needs of our long-term crew as well as emergency care for short-term crew. However, the Crew Dentist is not an orthodontist, so the overall treatment must be supervised by your own orthodontist from home.
What surgical procedures do you perform onboard?
Mercy Ships provides many types of surgeries:
General (Adults)
General (Pediatric)
Ophthalmic
Oral Maxillofacial & ENT Head & Neck
Orthopedics (Pediatric)
Reconstructive Plastics
Urogynecologic
CLICK HERE to view our detailed list of provided surgeries.
Do I need to be a registered nurse?
Yes, Registered Nurses are preferred for most nursing positions, but we do have opportunities for other licensed personnel.
What opportunities does Mercy Ships offer for allied health professionals?
We need an array of qualified medical professionals to bring hope and healing. View the table below to learn what opportunities Mercy Ships offers for Allied Health Professionals!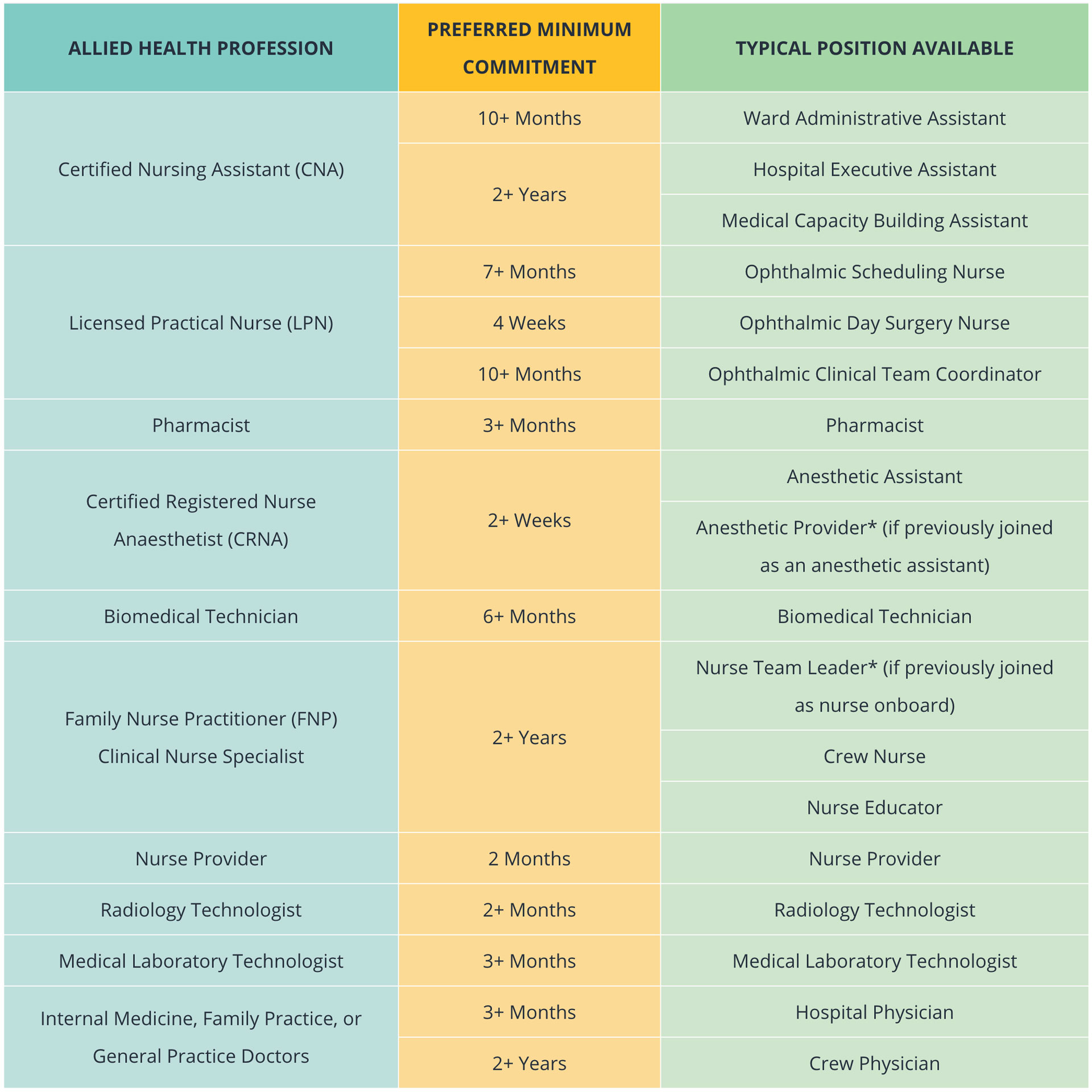 Can a Nurse Anesthetist join as an Anesthesia Provider?
Yes, we do accept Certified Registered Nurse Anesthetists or the national equivalent as Anesthesia Providers. However, they must first join as an Anesthetic Assistant.
Mercy Ships is a remote environment where supervision by a physician anesthesiologist cannot be guaranteed at all times. CRNAs wishing to work as an Anesthesia Provider must understand and agree to work in this situation and be able to take full responsibility for their actions. Therefore, CRNAs need to apply for an Anesthesia Assistant position in order for Mercy Ships to assess their comfort and skill level prior to joining as a Provider.
As a surgeon, what can I expect during my first time onboard?
Due to the complexities of our surgical cases, surgeons who have not previously served with Mercy Ships will be paired with an alumni as the primary surgeon for each case.
Do you use general surgeons?
Yes. The surgical procedures performed most frequently are inguinal herniorrhaphies for large hernias and thyroidectomies.
Do you use gynecologists?
Our women's health program uses OBF surgeons who are trained in fistula cases. Unfortunately, we are not able to offer training in this area apart from our Medical Capacity Building program that trains local surgeons.
Do you use medical or nursing students?
Medical and nursing students often ask to join Mercy Ships as an elective session or to get exposure/experience in a developing country, however, we are unable to accommodate these requests. The majority of the positions in the hospital require a current license and we do not have personnel or bed space onboard currently to facilitate these opportunities.
Do I need experience before volunteering?
Mercy Ships requires at least 2 years of post-licensed experience before volunteering for most medical positions in the hospital.
Does my license need to be current?
You must hold an active license in good standing in your home nation. You will be asked to submit copies of your license, diploma, and relevant certificates. It will expedite the application process if you send these with your application. Upon acceptance, you may also be asked to submit a registration document in our host nation.
Do I need malpractice insurance?
Mercy Ships operates in a host country with a signed protocol in which the host government agrees to hold harmless all Mercy Ships staff and volunteer medical providers based on due diligence by Mercy Ships to provide qualified providers who work within their scope of practice. As such, Mercy Ships does not provide or require malpractice insurance for volunteer medical workers except those who will be providing medical care to our crew (i.e., Crew Physician, Crew Nurse, Crew Dentist, etc.). We will enroll the relevant volunteers and cover the expense.
What is the minimum commitment?
Based on the orientation required and need for consistency, a minimum commitment is specified for each position. While it is easier for a member of the surgical team to come for only two weeks, ward nurses require a more extensive orientation and therefore come for a minimum of two months, as an example. You can review the minimum commitments at opportunities.mercyships.org.
What will my schedule be (night/weekends/etc.)?
Schedules vary depending on where you work. Ward and ICU nurses work rotating shifts, which will include nights and weekends. Operating Room staff and other ship-based teams tend to work weekdays, day shifts. Some days may be long.
Teams that work primarily off-ship, including Dental, Eye, and Palliative Care team members work Monday through Friday. These teams are usually in a hot environment and travel to and from their locations each day.
Nurses can expect to work approximately 10 shifts in every 2-week period and receive one weekend off every two weeks. All shifts are 8 hours, including weekend shifts. Nurses will work a mixture of day and evening shifts, with 4-5 night shifts in a 4-week period and night duty is expected of all ward nurses. Shift times are as follows:
Day: 7:00 am – 3:00 pm
Evening: 2:00 pm – 9.30 pm
Night: 9:00 pm – 7:30 am
These shift patterns subject to change
What are the nursing responsibilities in the ward?
Ward Nurses care for 5-7 patients of varying acuity on a day or evening shift and on a night shift, nurses care for approximately 10 patients. Our Ward Nurses are vital in caring for the patients of our busy surgical ward – dealing with simple incision lines and more complicated skin graft dressings, surgical drains, NG tubes, urinary catheters, IV fluids, IV antibiotics, nasopharyngeal airways and occasionally tracheostomies. Upon arrival, nurses are given the opportunity to tell us how comfortable they are with certain skills, which is taken into consideration when we assign patients.
Our ICU Nurses care for ventilated and critically ill patients.
Do I need to bring my own scrubs?
You may choose to bring your own scrubs if you like a bit of personal style, but Mercy Ships provides scrubs for those who are involved in direct patient care. We also launder the scrubs we provide for our volunteers.
What are the medicines we use onboard?
Mercy Ships International follows the World Health Organization recommendations for essential medicines and has had its own essential medicines formulary book with dosage guidelines since 2003.
Maritime/Technical Positions FAQs
Do I need seaman's papers to serve onboard?
Both the Deck and Engineering departments (technical crew) consist of licensed and non-licensed crew members, depending on position. For example, all officer and rating positions do require current certificates of seafarer training. Other positions onboard, such as entry-level positions and skilled trades (carpenters, welders, electricians, etc.) do not require maritime licensing.
What kinds of certificates are required to serve in deck or engineering?
This varies with the position. All technical crew should have a current certificate of Basic Training (BT) according to STCW standards. For licensed crew members, a valid certificate of competency is required, in addition to the other position-specific requirements as listed on the job descriptions.
Missing something? We may be able to help you receive certain certifications through our Maritime Training Center. If you have questions, please contact our Technical Recruiter.
Note: Some national certificates are not recognized by the flag state of our vessels (Malta). We will review your certificates during the application process.
Will my service time on the Mercy Ship count toward a Merchant Marine Certificate?
That depends on your licensing or certifying administration. You will do best to consult with them on any restrictions or limitations they may impose. The fact that our ships spend most of their time in port, as do many 'stand-by' vessels, means that some maritime administrations may not accept service time onboard our ships, or they may accept it at a reduced rate; for example one day's credit for each three days served.
Will my Navy experience benefit Mercy Ships?
That depends on what your specialty was, and what training and experience you've had. With regard to certificates, since we are required to follow merchant marine training and certificate standards, typically, there is not a direct equivalent of your naval rating or commission. However, we would be more than happy to discuss your specific skills and training to see if you may be a fit within our technical crew.
Why does Mercy Ships register its ships in Malta?
Because of the international nature of our organization, we register our vessels in Malta, because it is one of the few flag states that place little restriction on the nationalities of the technical crew.
With what countries does Malta hold bilateral agreements to accept mariner documentation and licensure?
All member states of the European Union
Argentina
Australia
Cabo Verde
Canada
China
Cuba
Egypt
Ethiopia
Georgia
Ghana
Hong Kong
Iceland
India
Indonesia
Islamic Republic of Iran
Israel
Jamaica
Japan
Jordan
Maldives
Montenegro
Myanmar
New Zealand
Norway
Peru
Philippines
Republic of Korea
Russia
Singapore
Sri Lanka
Tunisia
Turkey
Ukraine
United Kingdom
United States of America
Vietnam
Is Mercy Ships compliant with safety and environmental regulations?
Malta is signatory to IMO conventions, including SOLAS, MARPOL, ISM, ISPS, and STCW. We comply with these and other international regulations, as surveyed and audited by member societies of the International Association of Classification Societies (IACS). In addition to the international regulations, Malta, as a member of the European Union, imposes additional national regulations with which the ship must comply.
How much time is spent at sea?
The typical 12-month cycle of a Mercy Ships vessel is as follows:
8-10 months in port during field service in West Africa,
6-8 weeks in shipyard and dry dock
4-6 weeks cumulative sailing between field services and shipyard
You can also refer to our ship schedules, as noted here.
I'm interested in a maritime career, but I don't have any experience. Can Mercy Ships help?
We can provide entry-level crew with basic maritime training, including STCW 95 Basic Training (BT)(US Coast Guard Standards.
Crew joining as Deck or Engine Hands hoping to pursue a career in the maritime field can join our watch rating training (II/4 or III/4), with a commitment of at least twelve months to complete the program.
Are background or criminal record checks required?
Background checks or criminal record checks are required for certain positions, including the following:
Teachers / Academy staff (a valid Working with Children certificate or equivalent would also be sufficient)
Finance / Sales staff
Chaplaincy
Crew and Hospital Physicians
Any individual who would like to volunteer with the youth group onboard, or volunteer with the Academy
Any individual joining for one year or more
Any Norwegian or UK citizen or resident
All checks / certificates are held valid by Mercy Ships for two years.
How long does it take to be reviewed?
Mercy Ships begins reviewing applications as soon as all application items are submitted from the applicant. Processing applications and reviews usually take 3-8 weeks. Timing depends on several factors including the necessity for interviews, workload of HR team, and timing of the staffing period.
All applications go through the following reviews prior to final acceptance onboard:
Medical review – do you meet the health requirements as outlined by Mercy Ships?
Role review – are you qualified for the position for which you've applied?
Other reviews are based on expected commitment length, but may include:

Chaplain / Crew Care Review – are you in a good place to thrive in the community?
Academic review (for children – if coming as a family)
Are interviews required?
Mercy Ships utilizes the Spark Hire tool, which allows for a one-way interview with applicants. If one is requested, applicants are given a set of questions to answer and may record their responses when convenient for them, within a certain timeframe. The interview recordings are shared with the relevant reviewer or team leader for consideration.
For more in-depth interviews, you may be asked to meet with us for a two-way interview via video meeting or phone call. We don't often conduct interviews for those applying to join for less than a year, though at times the supervisor onboard may request one to better understand your previous work experience and suitability for the role, as well as provide you with details of the position and what you could expect if approved.
Typically, we would interview for the following positions:
All managers
Communications team
Academy teachers
Senior engineers and officers
Chaplains
Information Services team
Finance team
Supply team
Human Resources team
Staff Development team
Administrative positions
HOPE Center team
We may also conduct a brief interview if there are concerns regarding English language proficiency, as we require CEFR English Level B1 onboard (minimum). Please click here for more details.
What is the Talent Community?
If the appropriate position is not available when you would like to join, or if you are not available now but would like to be "on-call" for the future, we encourage you to complete an application. This will be reviewed along with any required credentials (licenses, registrations, skills, etc.) as appropriate for the position. Once we verify you would qualify for the role, you will be approved for our Talent Community.
We do send regular updates to members of the Talent Community, and contact them as soon as a role becomes available for them (whether through a last-minute cancellation or by normal staffing cycle).
How far in advance should I apply to volunteer with Mercy Ships?
If possible, applications should be sent in for processing at least 4 to 8 months in advance. For some positions and for some time periods, additional time is required. If you wish to apply as a family, we recommend applying at least one year in advance of when you would like to join.
Can I apply if I am not a Christian or currently not attending a church?
We look forward to welcoming every crewmember and we value the rich mix of faiths and perspectives that will make up our diverse community. For those with a Christian faith, there will be many opportunities whilst onboard to come together for worship, prayer, and teaching. The vision of Mercy Ships to follow the model of Jesus Christ is at the heart of ship life and will be expressed through our weekly Sunday services, prayer, informal Bible studies, and small group activities. All volunteers must have a lifestyle consistent with our
Core Values
and be willing to adhere to our Code of Conduct.
Why might my application be denied?
A candidate may be denied for the following reasons:
Role requirements: if you do not meet the requirements for the role for which you are applying, including the requirements listed on the job description for necessary skills, licensure, and English proficiency.
Medical/Health: due to maritime regulations, there are certain medical conditions that would disqualify someone from serving on board, including:
Some heart conditions
Bleeding disorders
Insulin-dependent diabetes (for service in Africa)
Immunosuppressive medications
Active hepatitis
Neurological condition causing persistent weakness, paralysis, or paresthesias
BMI over 35
Pregnancy where service onboard will exceed 24 weeks of gestation
Schizophrenia / Psychoses
Cystic Fibrosis
Significant vision or hearing loss
Mobility issues
Refusal or inability to comply with vaccination requirements
This list is presented as a guide and is not comprehensive. During a medical review, anything that needs extra attention or documentation will be addressed by our medical reviewers.
Maritime regulations: if joining in a maritime role, our flag-state of Malta only accepts certain certifications for crew from certain countries. Please see the above question "With what countries does Malta hold bilateral agreements to accept mariner documentation and licensure?" for the full list.
Commitment length: you may be denied or redirected to other, shorter opportunities if the you are not able or willing to join our Community of Faith (required for all crew serving 1+ years) or if your family situation prohibits you from serving in a longer capacity (if married, and their spouse is not applying, for example).
Housing: if there is no available housing/cabin space for the time you are hoping to join.
For some of these denial issues, we may be able to redirect you to another position, another time to join, or accept you into our Talent Community (wait list).
How do I apply?
Applications for service with Mercy Ships are accepted year-round. Processing usually takes 3-8 weeks. Click here to start an application today! Still have questions about how the application process works? This page can help.
Non-Medical Professionals
What opportunities are available for professionals not in the medical field?
There is a wide range of opportunities available for non-medical professionals. Only half of our positions onboard are medical, with the rest being categorized as "technical" or "general". For example, we need Captains, Chief Engineers, Teachers, Cooks, Vehicle Mechanics, and IT support, to name a few! For a list of all our positions onboard, go to opportunities.mercyships.org.
What ongoing staff development does Mercy Ships offer?
The Mercy Ships Staff Development department regularly offers training to equip crew for their roles with Mercy Ships. This includes training in management, leadership, cross-cultural interactions, transformational development, language, understanding Mercy Ships, safety, team-building, and other relevant topics. Departments may also offer training specific to roles, such as mariner or engineering education.
Can I continue to work remotely for a company at home?
Mercy Ships does not have any rules on these situations or similar, but we do ask that each volunteer be committed to their position onboard and to fulfilling the requirements of their role, including the expected working hours.
How easy is it to transfer to another position or location?
Crew do transfer positions and even extend their service on a regular basis. While we want to avoid big staffing gaps, we do our best to honour the wishes of our crew and have the best people in the right jobs at all times.
Does Mercy Ships have a minimum commitment for leadership positions?
For our leadership roles, we ask for at least a 2-year commitment. Some of our manager roles may have a shorter commitment, but our preference, for continuity and stability, is that our leaders commit to at least 2 years.
Which positions are on your management team?
We have a Managing Director onboard who leads the crew in partnership with the Captain of each Mercy Ship. Other roles that are involved in senior management include our Hospital leadership, HR, Communications, Chaplaincy and Operations.